RANE Aftermarket Auto Parts

Noorhan: Your Trusted Distributor for RANE Aftermarket Products
At Noorhan, we are pleased to introduce RANE, a name that has conscientiously worked to enhance its brand presence in the Indian aftermarket over the last decade. Today, RANE stands as a strong and reputable brand in the marketplace.
Elevating Customer Experience
RANE's commitment to excellence is evident in their new range of products. Each product is developed to meet RANE's rigorous quality systems and standards, ensuring an elevated customer experience in the aftermarket.
Dedication to Growth
RANE's journey is marked by continuous exploration of opportunities for growth in the aftermarket. They remain focused on increasing the pace of their expansion, always striving to better serve their customers.
RANE Auto Parts: Driving Innovation
In August 2014, RANE Auto Parts was established with a singular mission – to develop and market a new range of products exclusively for the aftermarket. Since then, they have been dedicated to enhancing their product portfolio to cater to all vehicle segments in the Indian aftermarket. Their commitment to growth is evident as they expand their products and customer profile.
As of January 2023, RANE boasts an impressive portfolio of 15 product lines, covering a wide array of vehicle segments. This expansion is further strengthened by a network of approximately 450 channel partners, with plans for continuous enhancement.
A Global Presence
RANE's commitment to quality extends beyond India. They proudly offer their products to overseas markets, including Sri Lanka, the Middle East, Nepal, and more. Their future plans include expansion into other ASEAN and African countries, further solidifying their global presence.
Explore Our Range of RANE Aftermarket Products
As your official distributor of RANE aftermarket products, Noorhan brings you a comprehensive selection of components to meet your automotive needs. Our catalog includes:
Valve Train Components: Engine Valves, Valve Guides, Valve Collets, Seat Inserts
Engine Components: Water Pumps, Coolants, Oil Pumps, Gaskets, Bushes & Thrust Washers
Transmission Parts: Clutch Components, Clutch Facings, Flywheels & Ring Gears, UJ Crosses, Power Steering Fluid
Underchassis Parts: Suspension Bushes, Engine Mountings, Center Joint Bearings, Shock Absorbers, King Pins
Braking Parts: Brake Rotors-PV, Brake Discs-Tractors (Dry), Brake Discs-Tractors (Wet), Brake Fluid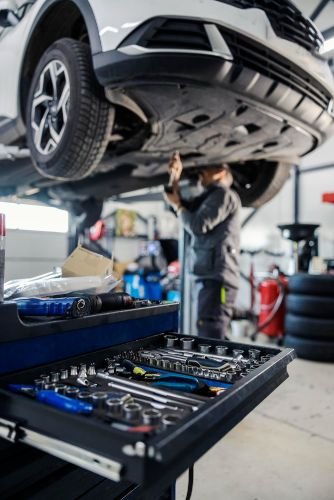 With Noorhan and RANE, you can trust that your aftermarket needs are met with the highest standards of quality and reliability. Your satisfaction is our priority, and we are dedicated to providing you with the best in aftermarket products.
Choose Noorhan as your trusted source for RANE aftermarket products and experience the excellence that RANE has consistently delivered in the Indian aftermarket.