A Snapshot of Automobiles in The Metaverse
There is a big elephant in the room named the Metaverse. It has taken the world by storm. Not a lot of people are aware of the term itself and we are here at this stage daring to discuss automobiles in the Metaverse.
Let's put on our geek hats and try to understand what Metaverse is in the first place.
Firstly, Metaverse is not a new concept. The term metaverse could be found as early as 1992. Science fiction writer Neal Stephenson owns the credit for it.
He did a great job of painting the right pictures about the 3D world and virtual reality back in 1992 when things were almost unrealistic and impossible. Metaverse was pretty much a dream back then
Fast forward to 2021, Facebook changed its name to meta.
On 28th October, Mark Zuckerberg made this massive announcement, that they're changing their branding to Meta, and every Facebook product will now be under Meta. 
Zuckerberg says, the purpose remains the same, connecting people, but their focus expands to the Metaverse and that's their priority at this moment.
Not just Facebook, Microsoft is on this mission as well. 
But, what the heck is Metaverse? Let's discuss. (I hope you have your geek hat on still)
We'll keep the jargon and complex terms away, and talk about the Metaverse in simple terms.
Metaverse is a shared online space. It is a virtual reality. It's like social media but instead of just liking a picture or commenting on it, you can virtually meet the person. Metaverse incorporates 3D graphics. 
It is a different world, that you can access, as you put on the glasses, or a VR headset like Oculus Rift, where you can purchase land, own a house, meet friends, have coffee, and even work at your office. 
Ever played the Sims game? You can relate
Some see the Metaverse as the next internet
Let's dive deeper by taking an example.
Let's say, you want to meet up with a friend who stays in a different country. You're both busy with your lives, so it is practically impossible for you to get together and meet up.
With Metaverse, you can arrange a meeting, a party, and meet up in the virtual world.
Maybe, you've been working from home for a pretty long time now, and you want to experience a physical office environment. That is all possible in the Metaverse.
As you are going about reading this article, just know that there are real estate properties on sale in the Metaverse. Not just properties, but different assets, collectibles, art, and even cars and automobiles are being sold. 
As per the Business Insider, a yacht in the metaverse was sold for $650,000, the most expensive NFT sold in one of the platforms that deals in virtual assets. A virtual plot was sold for $4.3 Million, setting a record for the most expensive plot as of 12th Dec 2021. 
Speaking of NFTs, NFT stands for non-fungible tokens. These are collectibles, assets, and properties in the virtual world, it could be in crypto and blockchain space, or the metaverse.
List of companies working on the metaverse development:
| | | |
| --- | --- | --- |
| | | |
| | | |
| | | |
| | | |
| | | |
| | San Francisco, California | |
| | | |
| | | |
| | | |
| | | |
| | | |
| | | |
| | | |
| | | |
| | | |
Traveling in Automobiles in the Metaverse
Like we travel in the real world, go on trips, drive to the office in fuel-efficient cars, on off-road trips, and across different countries. This is all being implemented in the virtual world, the Metaverse, as well. 
Virtual reality creates a 360-degree view of the places. As you travel in the Metaverse, you will be able to access places using cars or any other medium of travel as you would, in reality, giving you a much better view than a video or photograph would.
You will soon be exploring options where you could go and explore virtually before you buy the travel package.
So the possibilities are way high for the automobiles in the metaverse
Cars and Automobiles in the Metaverse
You can purchase cars and other automobiles in the metaverse. These could be in the form of NFTs as well.
You can get them in exchange for cryptocurrencies.
Metaverse & Auto Commerce (Car Commerce)
There is a very helpful use case when we think about how the Metaverse can impact Automotive industry, and that is car dealership
How Car Dealership and Car Showrooms will work in Metaverse
Users of metaverse can virtually visit the car showroom. They can sit inside the car's virtual model. They can even take the car for a spin. All the functionalities of the car can be replicated in the metaverse. It's just like having a digital twin of a real-world car model.
If they like the car, they can even make the payment in the form of Cryptocurrency.
And the car can be delivered to them in the real world.
Recently, a tech company known as Tech Mahindra announced their version of Metaverse. They have named it TechMVerse where they specifically mentioned providing car dealership solutions in the metaverse which they named DealerVerse 
NFT Artists for Automobiles
As we understood that blockchain is the underlying technology to build cryptocurrencies.\
NFTs are the digital assets (investment instruments) of the future (at least they look like for now) and they are dependent on cryptocurrency, especially Ethers.
So it becomes inevitable to talk about them when we are talking about Metaverse.
Here are some of the artists making NFTs for cars and automobiles.
Wrapping Up about the automobiles in the metaverse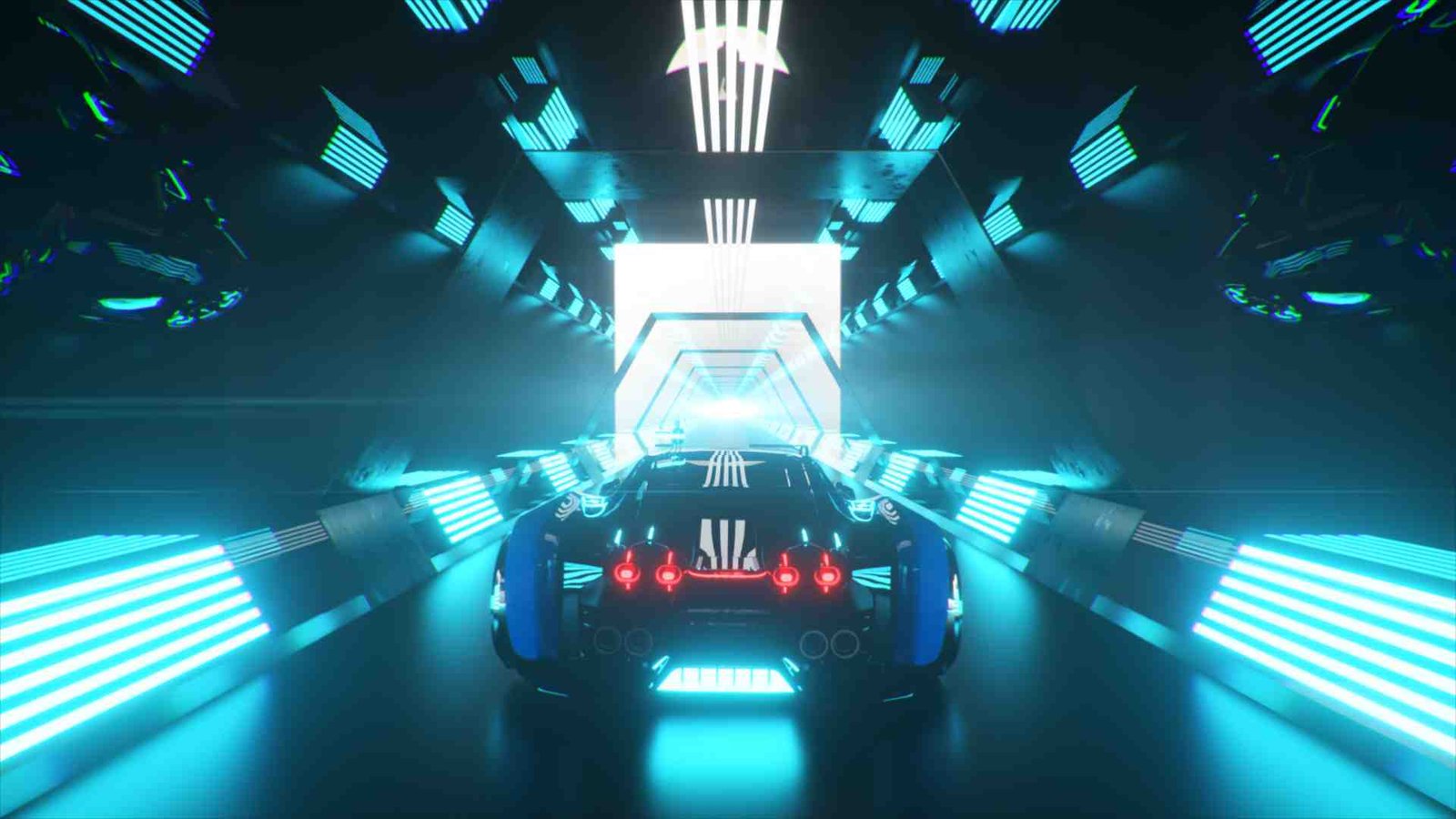 Metaverse has just begun and it is all you can hear people, especially GEN Z talking about.
Metaverse could be a major part of what we're all about to see in the future.
It could be interesting to see how the automobile companies will react to this new phenomenon.
Who knows a completely non automobile company may become a world leader in the automotive industry in the metaverse.
As of now, it just feels like talking about the internet in 1992 right?
Metaverse is a decentralized platform based on blockchain technology that provides a digital identity and asset management system for users.
The platform allows for the creation of a virtual world that is connected to the real world through the use of smart contracts. The  allows for the creation of a trustless environment where users can interact with each other without the need for a central authority.
Metaverse is also working on developing a decentralized exchange that will allow users to trade assets and digital currencies in a safe and secure manner.
Metaverse is a term used to describe the virtual world or the digital world. It is a 3D virtual world that can be explored and interacted with by users in a similar way to the physical world.
Web3 is the third generation of the World Wide Web, which is the platform that enables users to interact with the Metaverse. Web3 is a decentralized platform that allows users to connect and interact with each other without the need for a central authority.
With web3, the automobile industry is experiencing a major shift. The ability to connect vehicles to the internet is transforming change, especially for luxury and high-end vehicles.
The Web3-enabled cars host new features and services that are impossible with traditional vehicles. For example, web3-enabled vehicles can offer features such as remote diagnostics, real-time location tracking, and even the ability to make payments directly from the vehicle. This is having a major impact on the way the automobile industry operates, and it is only going to grow in the future.